Advertising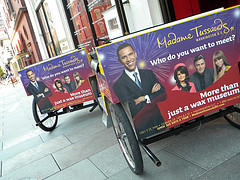 Want to make a unique and striking impression of your brand, company, organization, or message? Consider outdoor advertising on the highly-visible and flexible space that pedicabs and billboard tricycles offer. Mobile pedicab billboards can be used in virtually any locale in the District of Columbia to get your message in front of pedestrians in heavily trafficked areas. Our pedicabs offer unparalleled "face time" impressions with a captive audience of motorists in dense DC traffic. We operate frequently around hard-to-reach federal civil servants with steady disposable incomes in the "commercial-free" areas of the National Mall and federal office building districts. We ride clean, green, and human powered devices that turn heads and typify the lifestyle choices of a younger urban demographic.

Use our unique conveyances to achieve market saturation, or to reach a specific demographic target. We can use pedicabs geographically with positioning in and around desirable areas and specific venues such as the universities, sporting events, theaters, nightlife areas, and conventions. We are ready to deliver high-profile exposure of your brand near point-of-purchase locations.

Besides ad panels on pedicabs, we also offer a billboard tricycle with a 5 x 4 billboard to deploy your ad into strategic areas. Let us wear and ride your brand, with rectangular ad panels and flags on the pediccabs, t-shirts, sweatshirts, clothing, or other eye-catching costumes. Simultaneously, with an additional paid hourly services rate, we can provide "free" (at no direct cost to your demographic) rides, expose your brand with paneling in seating areas, and unique embellishments on board the pedicab for additional impact.

Call or text our sales representatives today at 2 0 2 - 3 4 5 - 8 0 6 5 for a complimentary quotation to have your brand or message on as little as one, or as many as 45 pedicabs in DC.
---