About Us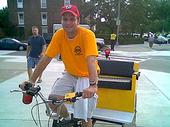 We are DC's original pedicab experience, in busines since 2005. DC Pedicab has revolutionized the streets of DC with eclectic and innovative, human-powered pedicab sightseeing. We are locally-owned and operated, properly licened by the District of Columbia and fully insured beyond legal requirements to $2 million US, certificate of insurance available upon request with a reservation. We have professionals on staff affiliated with the Guild of Professional Tour Guides of Washington, DC and have references avaiable from upscale hotel concierges. Each of our guides are authorized by the National Park Service to operate on the National Mall.
Frequently Asked Questions
RESERVATIONS: (202)345-8065
What services do you offer? Much more than just a good time! DC Pedicab offers ecologically-sustainable sightseeing tours. In addition, we provide our services for special events, such as weddings, parties, and parades, as well as shuttle services for major events.
How can I take a tour? - It's easy! Your DC Pedicab tour can be reserved right now: text us or call (202)345-8065 in advance of your departure. Please provide your origin and destination locations including qudrant (NW, SW, etc), desired departure date and time, and total number of guests. You can also e-mail us if you prefer via the "contact us" link on this website. The more notice you can give us, the more we can be available to you.
When are your business hours? - We sure aren't paperboys! We are generally available by advance reservation from 9am until the evening throughout the year. To make a reservation, please call us at (202)345-8065.
How much are your sightseeing tour fees? - Our 2016 tour fees for one or two guests are $84 per pedicab per hour, and for three guests in one pedicab, $96 per pedicab per hour. One small child rides for free with each tour reservation! All tour bookings are a minimum of one hour. Fees are round up or down in 1/4 hour increments if your tour runs beyond one hour. We can make as many (or as few) stops as you wish if you would like to take photos, or enter some of the memorials. Sorry, but we do not offer "flat rate" or "itinerary-based" tours. Please note well, these tour fees do not include an optional gratuity payable directly to your tour guide. Please see our "tours" page here at this website, or call us at (202)345-8065 to make a tour reservation.
Can my small child ride with me for free? - Yes! One (1) small child may ride for FREE with each tour reservation. We can transport up to four children per pedicab. If you have any specfic questions on seating capacity, please call us or text us at (202)345-8065.
What happens if it rains? Do you have canopies on your pedicabs? - Yes! We have rain and shade canopies and umbrellas on ALL of our pedicabs. We can fulfill our advance reservations rain or shine! We raise this issue as isolated rain showers, even thunder showers, are not uncommon here during the spring and summer months. For some, this is a great reason to seek the shelter that a pedicab offers. For others, this is a total "deal-breaker" and we offer a responsive cancellation policy as outlined below.
What is your cancellation policy? - We have a dead simple cancellation policy: we simply ask for 24 hours notice if you wish to reschedule or cancel your tour reservation. We are a small business and will work with you. Please don't hesitate to call us or text us anytime at (202)345-8065.
If you are running more than fifteen (15) minutes late, your tour reservation will be automatically cancelled unless you contact us to reschedule. Please feel free to call us or text us 24/7/365 at (202)345-8065.
What areas do you serve? - Most of our tour clients prefer to meet us on the National Mall to begin their tour. We suggest Federal Triangle Metro station near 12th & Pennsylvania Avenue. This station serves the Blue, Orange, and Silver lines, or transfer to them from other metro lines. There are many parlking garages in that area as well. We also have a "free pickup zone" in the vicinity of the National Mall and Downtown DC. Please call us with any questions at (202)345-8065. For the right arrangement, you can also reserve our pedicabs and chauffeurs for weddings and special events at other locations anywhere in DC, Maryland, Virginia, West Virginia, Delaware, Pennsylvania, and beyond!
What forms of payments do you accept? - Cash, American Express, Master Card, and Visa. We would also be happy to take you by an ATM during the tour as needed.
Can you provide a receipt for my expense account/records? - Yes! We can email you a receipt. Almost every business traveler needs ground transportation or business entertainment at some point during their trip. This is an easily justifiable business expense and we can issue receipts by request. Please call us at (202)345-8065 with any questions.
Can you accommodate passengers with disabilities or in wheelchairs? - Yes! Many of our pedicabs have steps and handrails to make for even easier boarding and alighting, and we can stop alongside curbs to facilitate this as well. We occasionally transport passengers with folding wheelchairs and can even arrive to your tour/ride origin with a folding wheelchair for an additional fee. When folded, we can transport these wheelchairs on the flooorboard of the pedicabs. Much like a car taxi, we cannot accomodate large electric wheelchairs, but we can recommend a qualified public para-transit service provider. We can accommodate service animals on a harness or leash. Please call us at (202)345-8065 with any questions.
Walking is a challenge for me (or my friend or family member). How close can you take me/us to the memorials and monuments? - We can generally take you to within close walking distance of most of the memorials. All of the memorials are disabled-accessible, and there are elevators to take you up into the Lincoln and Jefferson memorials, and Washington Monument.
How safe is riding in a pedicab? - Riding in professionally-operated, well-maintained unibody tricycle pedicab has proven over the years to be a very safe experience. Our chauffers and tour guides are properly licensed by the National Park Service. Our bright yellow pedicabs are equipped with marker lights, turn signals, flashing headlamps, reflective tape panels, reflective triangles, and wheel reflectors. We do not operate on high-speed roads, and enjoy the use of certain sidewalk areas, separated cycletracks, bicycle lanes, shared lane markings. In addition, passenger guests are fully insured beyond legal requrements to $2,000,000 million limits.
I believe I forgot/lost/left my belongings in one of your pedicabs, please help me! - We certainly aren't the only pedicabs operating in DC, but at our earliest convenience, we will check with our guides. Please allow us at least one day to reply to you, especially if you are contacting us late in the evening, or early in the morning. You might also contact any bars, restaurants, nightclubs, parties, liquor stores, shops, museums, or other attractions you visited during your busy night/day.
RESERVATIONS: (202)345-8065